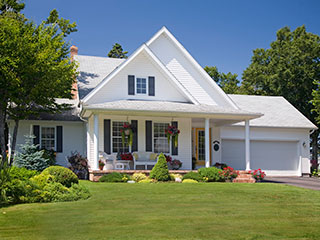 When your garage door is too noisy, gets stuck halfway, or comes off the tracks you count on our experts at Garage Door Repair Bartlett to professionally fix the issue as quickly as possible! We repair springs, panels, openers and every other part of your system, including accessories. When the damage is beyond repair, we are always ready with the right replacement parts. Our team also provides fast emergency services, and we also install brand new doors and opener systems, and can help you choose the best one for your home.
A Full Range of Services
We are among the leading service providers in Illinois when it comes to repairing and installing garage door systems. Our company works with all door and opener brands without exception, and we can repair or replace every type of spring, regardless of its age or manufacturer.
Adjusting and Replacing Springs
You can easily tell when something's wrong with your garage door springs. If the door is hard to open or close, or is sagging slightly, then something is likely wrong with these components. Don't hesitate and give us a call right away! Our service involves accurate adjustment, as well as proper lubrication to restore smooth operation. When you have a broken spring, our expert technicians will replace it with a new one of the same type and size, but of a similar or better quality.
Opener Repair and Installation
Does your brand new garage door opener lets the door hit the floor? Is its motor making strange grinding sounds? Count on us to adjust your unit's travel and force limits, and replace the worn-out or broken motor gear that's causing that noise. No matter what kind of repair is required, our technicians can do a perfect job in no time at all. When it comes to installing new openers, we're the team to call. Our experts will gladly advise you on the best unit for your specific needs, and our technicians will then proceed with the installation at your convenience.
Fast Response Services
Our team is always just a phone call away. If you have a snapped cable, for instance, we'll get to you in the shortest possible time and replace the damaged component with a new one. Knowing the needs of our customers and serving them professionally and swiftly are the things which make us one of the most popular service providers around. When our team is responsible for an automatic system, each component receives special care.
Contact Us Today
When you need professional repairs quickly or need someone to maintain your garage door or to replace it, contact our experts at Garage Door Repair Bartlett. You can either give us a call or use our online scheduling system.
The Best Service Provider Around:
Highly Skilled Technicians
Top Quality Replacement Parts