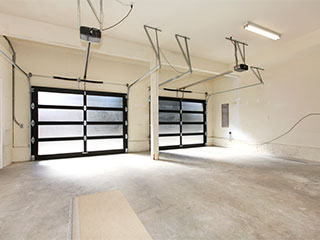 There are a number of benefits to having a quality garage door opener installed at your home, including being able to open and close your door with nothing but the push of a button. However, if your opener isn't working properly, you will have a number of problems to deal with. At Garage Door Repair Bartlett, we pride ourselves in the work we do and will work hard to make sure you get the service you need.
The Door Won't Open
If your garage door simply won't open, call us for help right away. This may be as simple as a worn-out motor gear or it could be something worse, such as an electrical component that needs to be replaced. Whatever it is, we can take care of it.
The Door Opens Slowly
It is very frustrating when garage door openers don't operate the way they should. If your unit is starting to fail or slow down, you should also give us a call. There may be another problem such a blockage in the tracks, but it's important to first rule out opener issues and prevent further damage from occurring. We will help diagnose the fault and perform any repairs or replacements as needed.
The Unit is Operating by Itself
A shorted-out remote, problems with the wiring, or a neighbor using an opener with the same frequency as yours can all cause your unit to operate without you even touching a button. If this is happening to you, contact our professionals to determine the problem and make the necessary repairs.
Seek Professional Assistance
Repairing your garage door opener is important, if it fails completely you will simply be unable to operate your door. It can be difficult to identify the issue when an opener is not behaving correctly, but our professionals have years of experience behind them, and can guarantee that we'll solve your problem with speed and efficiency. Call our experts at Garage Door Repair Bartlett and we'll quickly take care of any problems you are having with your garage door opener, we look forward to hearing from you!
We also offer:
Garage Door Troubleshooting Services
Garage Door Torsion Spring Replacement