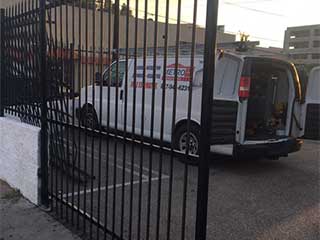 Is Your Opener Acting Up?
If you've been noticing issues such as your gate struggling to move, it taking more tries to get it to, or refusing to work at all, these can all be signs that the opener needs tending to. We can help! Our professionals are knowledgeable in a vast majority of popular openers, so whatever one you have, we can get it back to normal! Whether the parts need repaired or replaced, we'll determine the root of the trouble and the most efficient solution.
Need Your Get Aligned?
Being a complicated system, your gate being even slightly out of place can cause trouble. The sensors might be tweaked, or your door may even not be closing properly. These things can happen from small accidental bumps with a car, or even a bad storm. However, it's best to get it tended to right away! Not only might your home's security be in jeopardy but continuing to use it in this state can cause even further damage. We will make sure it's all in the proper spot and working smoothly again.
Hinges Can Need Attention!
It's not surprising that the hinges on your gate will wear down or potentially begin to rust when they're being used daily while the gate is moving. This grinding down can cause stickiness that makes your gate's movement irritatingly noisy or slow, among other things. Our technicians can use wielding repairs to get them back in working order or replace them if necessary. Either way, your door will be like new again.
Commercial Repairs Available
We can take care of the gate at your business as well! We understand that it's important to make sure that it's working properly both for security purposes, and so that it's easy for people to come and go. We'll tend to the problem quickly and get out of the way!
Call Garage Door Repair Bartlett now and let us give you a hand.
Give our team a call if you need help with:
Driveway Gate Troubleshooting
Gate Exit Sensor Installation
Program Doorking Intercom