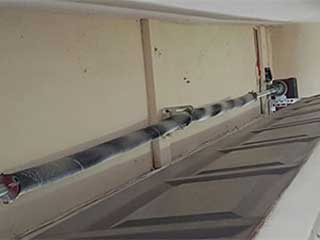 Understanding Door Springs
Your garage door spring plays an important role in ensuring your door moves smoothly and stays balanced when left in a partially open position. If your spring breaks, your door will become completely disabled. The spring can become very weak over time and lose its ability to hold tension sufficiently. It can also snap. If you're around when this happens, you will almost definitely hear a loud noise.
Garage door springs are one of the most dangerous components of any door. The spring can erupt violently if handled the wrong way. When yours breaks, it's important to contact a professional and not attempt to change it yourself unless you've had significant training and experience doing so.
Fast Repairs
We know how much of a nightmare it can be when your door stops working suddenly. Our team focuses on offering our call out spring repair services to local customers. We want to ensure we help those that need us as quickly as possible. We also do our best to offer same day services so that we can come and fix your garage door when you need it most.
Spring Maintenance services
The surest way to keep your springs in business for longer is to properly maintain them. By signing up to our regular maintenance services, you can ensure that your springs are kept lubricated and safely adjusted. By performing this kind of maintenance just once a year, you'll keep your springs in good condition and save a lot of money in the long-run.
How We Work
Our technicians will give your entire door a full troubleshoot - we want to ensure we've addressed all the potential issues. We'll remove your spring if it has snapped and replace it with a new one to last over the coming years.
If you think your spring is failing or has snapped, contact our team right away at Garage Door Repair Bartlett to arrange a call out and get it fixed by a trained professional.
But wait, there's more! We also offer:
Maintenance Garage Door Torsion Spring
Door Opener Troubleshooting Services
Broken Garage Door Spring Replacement
Broken Garage Door Track Repair