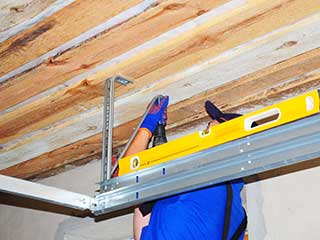 If your garage door suffers a malfunction it can make life extremely stressful for you. Our technicians provide a highly professional service that will get your door working again in little to no time at all.
Finding a Problem
The first thing our technicians will need to know is the nature of your garage door's problem. While these doors are built to a high standard and are designed to last through years of constant use, they do develop issues over time. One or more of the door's components may fail or break, and it's essential that we quickly identify where the core problem lies.
Inspecting For Collateral Damage
Our technician thoroughly inspect each door we work on to diagnose the underlying fault. This is an important step, because it's possible for malfunctioning components to have affected other parts of your system both directly and indirectly. It's vital to ensure that no further damage has been caused to you garage door system so we know that once we fix the main issue, your door won't develop any further problems.
Fully Encompassing Repairs
It takes the practiced eye of a professional to successfully diagnose what's wrong with your door. Our technicians will be able to give you reliable advice and information on the cause of your door's failure, whether it's a broken spring, a worn-out motor gear, a dented track, or anything else. We'll then proceed with repairing or replacing the damaged component in a timely fashion.
Getting Things Working Again
We understand that our customers want their doors put back into working order as quickly as possible. That's why we make sure that our repairs are carried out as soon as possible, so as not to take up any more of your time than what's absolutely necessary. We always make sure to keep our customers fully informed of any and all repair work that proves to be necessary. If a spring breaks we'll replace it, if a track is dented we'll repair it, and if your safety cables needs adjustment, then we'll do just that – adjust them.
Schedule an Appointment Today
Our experts at Garage Door Repair Bartlett provide top-quality garage door repair services. If your door is experiencing problems, be sure to contact us as quickly as possible.
Looking for more? We also offer:
Opener Sensor Repair & Replacement
Galvanized Torsion Spring Installation
Garage Door Off Track Repair